Teaching & Work Experiences
 I have a natural ability to create an environment that fosters diversity, collegiality and ability. As the job calls for it, I am a valued asset to work in a multi-cultural setting. Living in Korea as a foreigner and working in a large national university (with over 22000 students from all over the world) made me realize that I get along with people of every culture; both students and co-workers. I have colleagues from India, Korea, and the USA here in my university and students from over 23 different countries.                 
–      2015 – current 
Teaching Graduate Students
Course title: Global Livestock Seminar
In this course I teach many different aspects of Animal Science. In every session one of the graduate students (12 Master and PhD students) prepares a presentation based on my lecture. My lectures focus on Animal Nutrition, Welfare and Behavior, Climate Change and Animal Physiology.
This course has 3 units and is offered by the College of Animal Life Sciences at Kangwon National University, South Korea, for Fall semester 2015.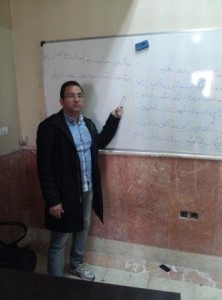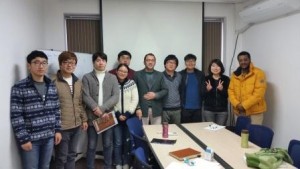 –      2009-2010   Company name: Pouya-Dam Khorasan Company-Animal Science
Position: Animal Nutritionist, Consultant & manager in Mashhad & Neishabour, Iran
I was a nutritionist and technical manager of a dairy farm. I lectured in seminars for farmers, and networked with other companies. I also served as a consultant and adviser for all cow farms under the supervision of our company which were located mostly in Neishabour and Mashhad (Two of the biggest and most important cities for the animal farming industry in Iran).
My experience included teaching (Animal nutrition management, animal welfare & behavior) and holding seminars for farmers while mentoring students as they completed their internships or jobs with farm animals weekly over the course of one year (Two classes per week).
–      2009 (Sep)-2010 (June)   Institute name: International institute of Gheshm Novin
Position: English teacher (IELTS & TOEFL) and adviser 
–      2004-2009   Company name: Deim-Kasht Company-Dairy farm (Sanat Khani)
Position: Animal Nutritionist, Manager, Milk production expert in Mashhad-Iran from 2004 to 2005
Responsible for teaching workers and students who were completing their internships while instructing them about farm management. Supervision of workers, ensuring efficiency and effective work. Responsibilities included artificial insemination, treating and curing sick cows, administering medication, taking care of calves, nutritionist, overseer of milking parlor.
Supervisor: Mr. SanatKhani.
From 2007-2009 
Position: working as a manager and expert for 2 years after graduating  in Master's in the same company-Dairy farm from 2007-2009 (Animal welfare and behavior section, Management department.)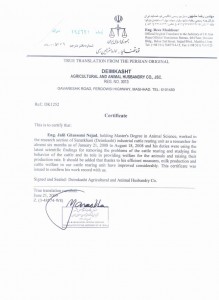 –      2005-2006   Company name:  Gol Narges company-Dairy farm. 6 months in 2005
Position: Animal Nutritionist, Manager, Animal Care.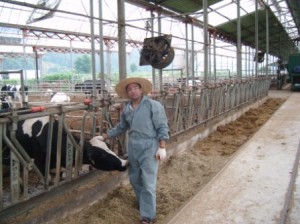 –   2009 (Sep)-2010 (June)   Institute name: International institute of Gheshm Novin
Position: English teacher (IELTS & TOEFL) and adviser
No Comments