Introduction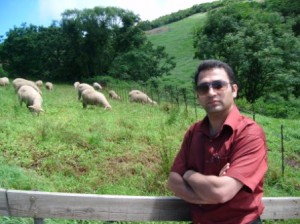 Introduction:
Self-Introduction 
My name is Jalil Ghassemi Nejad. I was born in Mashhad, Iran. I graduated high school in Mashhad. I then passed the national entrance exam of university and was accepted into the University of Birjand (National University). I was awarded a full-scholarship that I won over 300,000 other applicants. After 2 years, I finished my Associate's degree with a concentration of Animal Production Technology and was ranked the top student in my class (GPA: 3.59 out of 4).
After this achievement, I passed another national entrance exam to continue my studies toward earning a Bachelor's degree.  On the entrance exam I received the 13th highest score among all students taking the exam. I was accepted to the University of Shahr-e Kord (National University). Again due to my outstanding test scores I received a full scholarship to further my education. After 2 years, I earned my Bachelor's degree. My thesis topic was Restricted Amino-Acids on Poultry Nutrition.
After graduating I went to work with various animal farms and dairy cattle ranches (documents attached). After 3 years of learning and gaining hands on experience I took another national entrance exam to continue my studies.  After a lot of hard work, I received the 38th highest score of all students taking the exam. Again due to my top level scores I was awarded another full scholarship to work towards receiving a Master in the field of Animal Science (Feed & Animal Nutrition) at the Gorgan University of Agricultural Sciences and Natural Resources. I received my Master's degree in June of 2007.  My thesis statement was The Effect of Physical Processing of Diet (Starter) on some Growth Parameters and Blood Metabolites of Neonatal Dairy Calves. I received an average score of 17.52 out of 20.  My overall scores enabled me to rank number two in my class (Ruminant Nutrition, 19.75 out of 20, Excellent grade, GPA= 3.63 out of 4).
After receiving my Master's degree I wanted to get more real world experience and decided to obtain work for various agricultural companies (Pouya Dam Company as animal nutritionist, holding seminars, teaching scholars, advising farmers, etc.) and husbandries. At this time I continued my education and studied English. I was an English teacher and supervisor in an international institute (Gheshm Novin) for one year. You can find my scientific works, company and farm's experiences, and articles in my CV.
My most recent education began in 2010 with a move to South Korea where I was accepted at Kangwon National University to receive a Doctorate's Degree (course and research).  Due to my various scholarly achievements I was awarded the BEST-KNU Scholarship (Bring Excellent Student To-Kangwon National University). Thus, I pursued my studies toward Ph.D. (Animal Life System, Animal Science) at Kangwon National University(KNU). My PhD dissertation was entitled: Effects of Heat Stress and Water Restriction on Wool, Hair and Blood Cortisol, Performance, Behavior and Immune Status of Sheep and Dairy Cattle. I graduated in February of 2014.For my hard work and dedication I received the "OUTSATNDING ACADEMIC AWARD" at the graduation ceremony presented by the president of the University. GPA: 4.42 out of 4.5 (A+).
No Comments